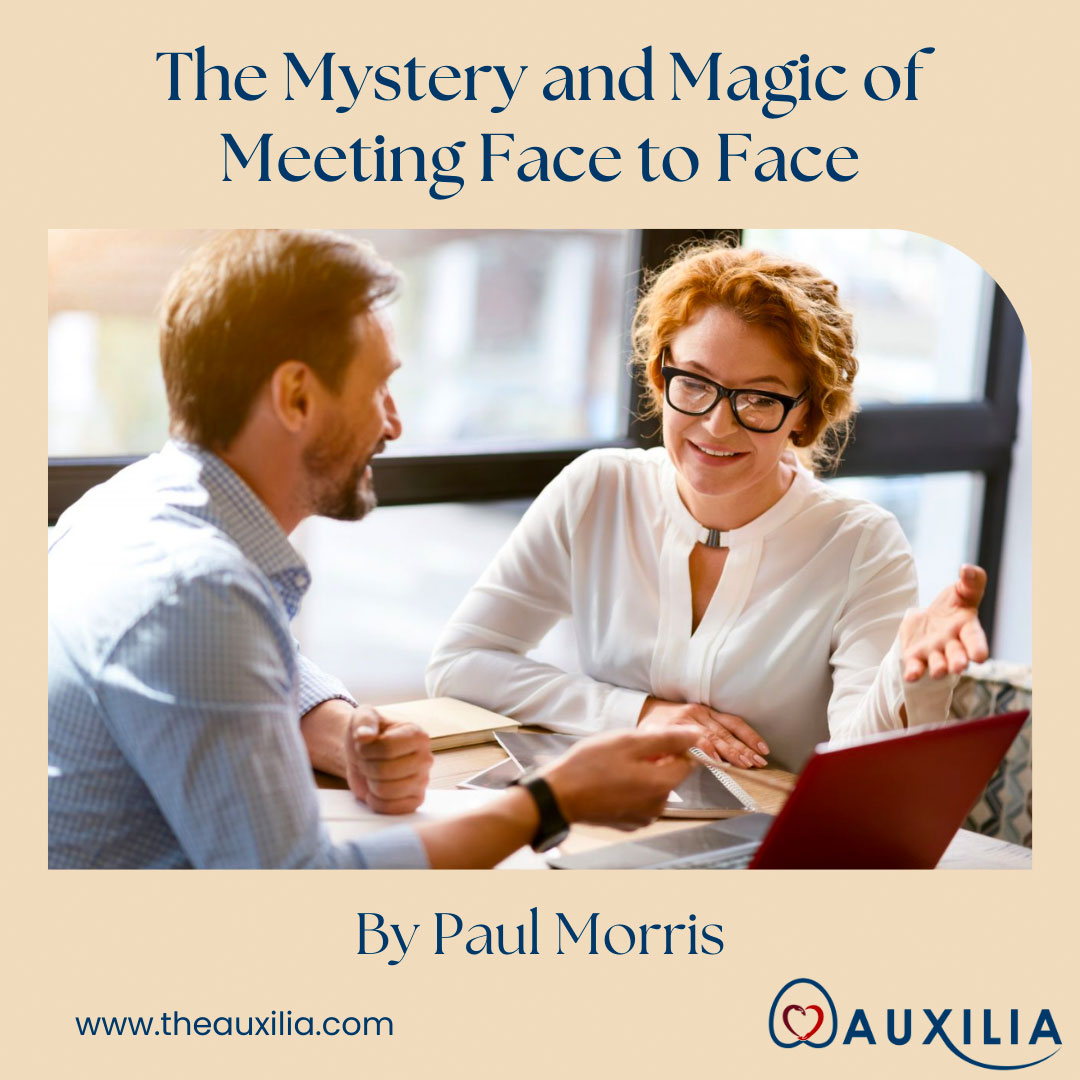 There is nothing better than a meeting face to face.
Meeting face to face allows you to:
Gain an understanding of your prospective (or current) supporter.
See nuances that do not come through in two-dimensional communication (email, text, even zoom).
Create or deepen your connection.
Confirm, or dispel, pre-conceived notions about that person.
(And here is a secret: it's hard to say no when you meet someone face to face.)
Face-to-face meetings are made out to be like the Holy Grail; possible through sheer force of will, or as if by magic. Let's be real: face-to-face meetings are hard. I have the no's, unanswered voicemails, and ignored emails to prove it. However, there is no more powerful way to connect with a prospective supporter. In a face-to-face meeting, you can see their reaction to a particularly powerful story. You can hear how they describe their connection to the organization and the vision they have for the future. You can see the relief as you assure them concerns, they have carried for a long time can be resolved.
So how can this happen without having to cast some sort of magic spell? First, recognize (and accept) that people are going to say no – a lot. It is not personal. It is not an indictment of your organization. People are busy, they are overwhelmed and, well, there has been a pandemic.
It's not magic. It is a willingness to be persistent and employ some effective strategies:
Start early: consistently seek to connect (phone, email, enews, etc.) do not wait until the last minute to reach out to the person you want to meet with and ask for a meeting. You can build rapport beforehand.
Offer relevant information that they will be interested in.
Be clear as to what kind of meeting you want (do not bait and switch).
Offer some options in scheduling. Do not be vague. Be direct.
Have a clear sense of what the goal of the meeting is, and a clear plan for how you want to get there.
Be flexible (who knows what can happen!)
Be yourself.
Follow up on the conversation (get back to them in a timely manner with answers to questions. Make sure you enter notes and what the next easy step is into your CRM.)
So how do you get a meeting?
Call, email, write. Follow up twice. No response? Hold for three months and try again.
If Yes. YES! Schedule and get ready.
If No. Thank them for their time, set aside that prospect for three months, and continue to qualify in that time. Stay in touch with relevant/interesting and timely information. Do not go silent!
What getting ready looks like includes: creating an agenda, having materials (do not go overboard!) on what you want to cover, and goals for the next steps.
The meeting: this is where magic can happen. Connect, engage, vibe. Get into the agenda but do not speed or overwhelm them. Let the prospect lead, ask questions, be curious, and do not fear hard topics that are relevant to the organization or the purpose of the meeting. With that being said, remember that you do not need to engage in topics that you're not comfortable with. Be responsive but remember you did not book this meeting to sit in on a debate (this is especially hard sometimes when the person you are meeting with wants to air grievances from long ago) wrap it up and figure out the next easy step.
DO NOT do most of the talking. I was once in a meeting with a major donor, someone we wanted to solicit for an increased gift. The person I was with went on…. and on…. AND ON. I could see the prospect getting bored (I know I was). Therefore, I like open-ended questions, if the person you are meeting with is the silent type, those are a way to keep the conversation moving (and you can always end the meeting early if you need to.)
When the day arrives, try to give yourself enough time on either side to feel relaxed and confident. Do not overthink it – be who you are. Be passionate about your cause, be curious, ask questions, and have fun.
What happens next is up to you.