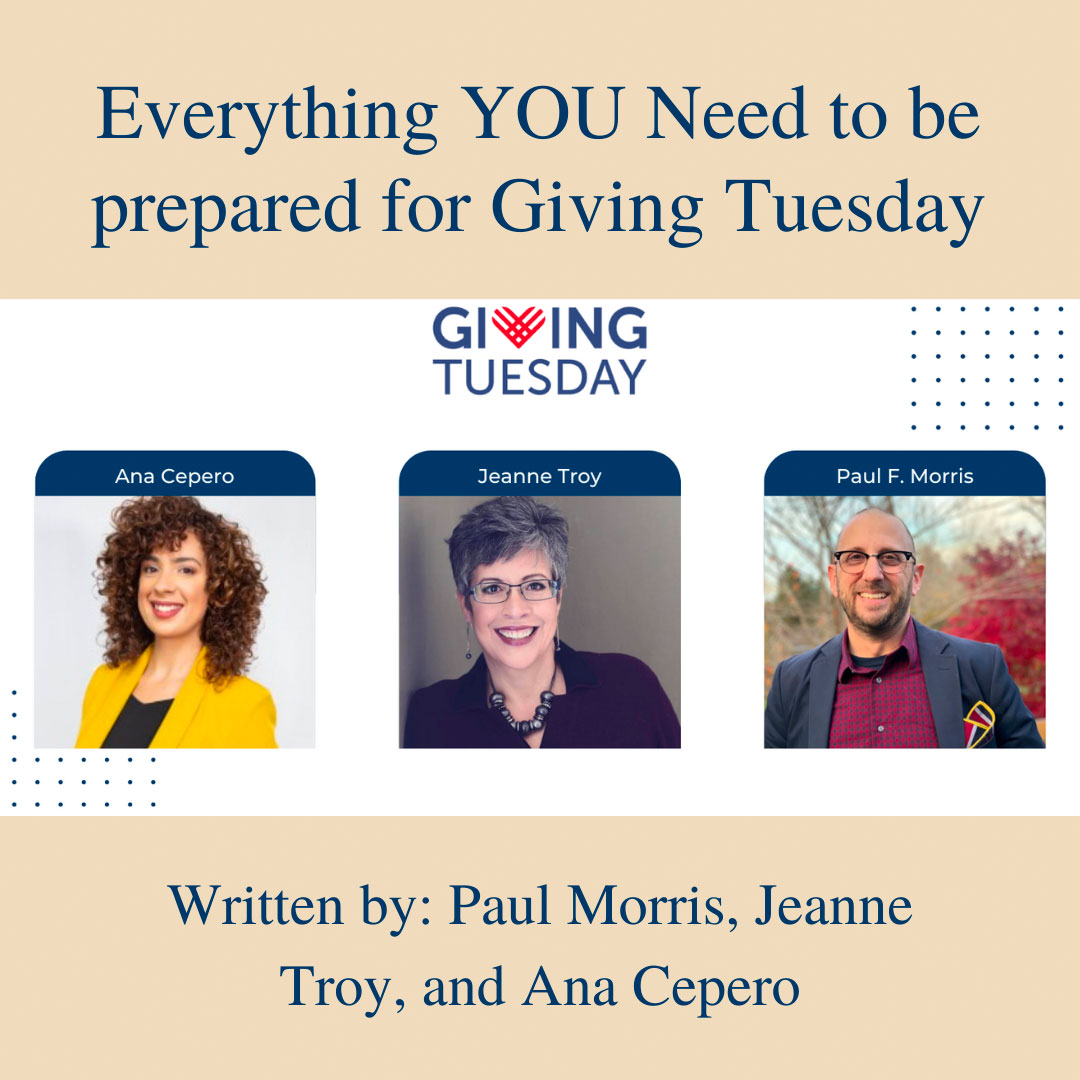 Whether or not you made it to Auxilia's Webinar, "Giving Tuesday: Should You or Shouldn't You" we have the FAQs that have been asked and are now answered by our Executive Coaches. Read along for some of their tips as you gear up for Giving Tuesday AND end-of-year fundraising! This blog post will share some pros and cons of Giving Tuesday and other tidbits about opportunities you may not have yet put in place for your end-of-year fundraising!
What makes it a good campaign to be successful on Giving Tuesday? Can you share some tips?
The promoters:
Giving Tuesday is a chance to bring awareness to your organization, be it friend-raising or fundraising. All organizations need awareness. It really hinges on what YOU want to get out of it besides money.
Think about corporate matches: what donors will give you a gift and how can you match it? XYZ company gives you $5000—you ask if it can be made public and matched, meaning the $5K becomes $10K on a dollar-for-dollar match. Again, it all depends on what you want to achieve.
Here are some tips from my playbook:
Start in mid-October, a prime time for EOY giving!
Use direct mail the week prior to Thanksgiving (yes, direct mail! It works!) then launch on the Thursday after Giving Tuesday
Make sure you: thank, acknowledge, and share stories
From December 1 st to the 31 st, work on your gameplan which can include direct mail, 1:1 asking, social media, email, and even P2P giving
Get creative!!
The Adversaries:
Not focusing on fundraising or not doing anything at all. Here's why:
I believe that the philanthropy press, vendors, and certain thought leaders have sought to create an artificial giving day in order to create a sense of competition, and control over how/when nonprofits raise money and create FOMO among small to medium-sized nonprofits.
There are 4 reasons why I think Giving Tuesday is a waste.
Your message is going to get crowded out. Most campaigns are indistinguishable from one another because there are so many out there. Agitator referred to as Sea of Sameness. The volume of email around this time typically increases up to 25x and yours may get lost.
Social media to fundraise. Not a true option unless you have a fantastic social media game plan and someone on staff to manage.
Spot/Impulse Giving
It is a moment. Giving Tuesday wants there to be volume/intensity (which then disappears) and Giving Tuesday can cause overload which then leads to complaints about how you aren't doing enough to retain donors.
Creating environments for impulse buying is present around Black Friday, Small Biz Saturday, and Cyber Monday. Philanthropy is not a consumer act.
What you raise is rarely as much as you could in other ways
What is raised on Giving Tuesday isn't as impressive if you go into the numbers. The agitator indicates that the avg gift is about $100 from donors. Giving Tuesday touted that in 2021 $2.7B was raised, and less than $1B was online – we'll say $1.7B was offline. When you look at how much was given in the United States in 2021 which totaled $485B, the amount given on GT is about .5% yet we're supposed to make it a moment…
Now, before you say "well, you're just a cranky crankerson…" there are some positive notes I can shed some light on.
I believe Giving Tuesday is a good day to create AWARENESS for EOY giving for any size nonprofit
Giving Tuesday should be a day to tell stories of impact and thank donors for their support (no matter the size or type) it is also a good day to bring 3rd party validator information to your audience
Ask, absolutely, if you want. But don't put all your eggs in this basket. Make it part of your broader year-end strategy that starts earlier
My biggest challenge has been to try and navigate the accounting piece. I find it a complete nightmare that is impossible to balance. Is there an easier system to use? How can I look at the fee breakdown?
Having technology in place is important for Giving Tuesday and additional reporting needs. Auxilia offers this kind of reporting. If you are using a different platform, you'll need to talk to their support team. This is why having an all-in-one solution is so helpful. When the giving page is connected to the CRM, the reporting is more accurate and easier to understand because everything exists in the same ecosystem.
Does anyone have any ideas about developing donors from a paid media campaign? We are operating on a Google ad grant, and I am curious to know how others might be pursuing that end.
This is going to be extremely difficult because advertising is passive. You post an ad and hope that people are going to pay attention. There needs to be a reason for someone to click through your ad, which means having a compelling copy. If you don't have that, well, people may, or may not, pay attention.
Additionally, you need to segment/target as much as you can, so that the audience you are seeking to engage will actually be reached and has a higher likelihood of paying attention.
I have done some excellent fundraising on Giving Tuesday but because we are not given donor contact information it is hard to retain those donors from year to year. Any suggestions?
I must ask, how are you raising money without receiving contact information? Without that, there is very little chance that those donors will be retained because there is no way to communicate with them directly.
I suppose you could post more generally "thanks to everyone who contributed…click here to stay in touch" but that is likely not a scalable strategy because that donor has made, essentially, an impulse gift. They were in the moment and decided to contribute (kind of like putting spare change in a can at the checkout or rounding up.) If donations were made via Facebook Fundraising, it is often difficult to capture the names of individuals. It might be worth it to utilize social media but post the donation form to your newsfeed so contact and billing information will be collected, so you have a starting point of retention.
I am the new ED at an organization that has been around a long time but has never really focused on developing individual donors. What is the best approach to growing a donor base? What are some realistic targets?
Start small and set a goal. Set out for 10 new donors. Look at lapsed individuals who have given at least one gift in the last three years. Contact them, learn why they gave in the first place, what inspires their giving (overall, not just to your organization), and illuminate why they chose to make an investment in your organization.
Ask each board member to identify three people they can introduce you to. Start with essentially the same conversation: what inspires their giving, what is of interest in what your mission is, etc. Then be willing to have an ongoing conversation of sorts. Deliver relevant and timely information. Be willing to ask. For people who contribute, or you speak, ask them who else you could talk to.
If you have the financial wherewithal, do an acquisition mailing whereby you purchase a list, tailored to your demographics (income, zip codes, etc.) and then start to use it. Most lists can be used 2 times a year and the names you obtain through gifts then become yours. Also reach out to businesses, civic groups (speaking engagements), and other venues to talk about what you do and the need for support. Your board is critical in this process and if they do not want to help you fundraise, that makes me question why they are on the board when their role is to do just that: raise money or get money, preferably both.
Build a donor persona. Ask the questions… Who is and has been moved to collaborate with your cause? Where do they live? What do they do? Which generation do they represent? Answering those questions could help to develop a profile and a target.
What tips do you have to increase our social media presence?
Post consistently. Do not just create asks or search for new followers. Post stories of impact, statistics, and information that is relevant/timely from third-party sources that illustrate your mission. Ask people to share what you post.
Get creative. Use all components of social media. Start creating reels, stories, and short movies. It keeps the attention of the viewer with fewer words.
Sharing different things, and fun things, about your org, will draw people in. Bear in mind that everything you post should be geared toward getting them to donate! What would you want to see and hear that would make you donate?
Build a community, share content with value (tips, steps, how-to, trivia, etc.), and be social (respond to comments/messages promptly and connect with other accounts that are related to your mission and interests).
What do you do if you are part of a statewide organization? I have constituents 8 hours away in both N and S directions. Many of the ideas given are for local nonprofits, I struggle to find ideas for statewide.
Tactics that you would use locally can be applied to a statewide, regional, or even national organization (I know, I've done it) segment, segment, segment. Draw stories from all over. Have local community advocates/ambassadors who can lead the way for you, so you don't stretch yourself too thin.
When you are competing with other like-minded nonprofits, what can you do to stand out from others, especially those with huge advertising budgets and celebrity spokespeople?
Most nonprofits don't have huge advertising budgets or celebrity spokespeople. Don't compare yourself to them (and don't think that is so great. Celebrities can be a pain in the a** to deal with)
What is your differentiator? How are you uniquely addressing the need that you are working on? If you are looking to engage the press, what do you have to offer that will help them or be of interest?
I would rather have 10 $100 donors than 1 $1000 donor. That's 10 people who can tell 10 more people about my cause and who will be trusted in their sphere of influence. Celebrities come and go, but friends talking to friends saying "this is something really important to me and you should pay attention" can last a long time.
Ask yourself, "What would make YOU give to your organization? What stands out?" Think of it from your perspective as a prospective donor and go from there.
How do we best respond to donors when they ask us for our political stance on a topic and we are an a-political organization?
If the political issue is important to your organization, take a stand. Be clear in why you have taken that stand and how it impacts your mission. Be unapologetic about it, especially if it will help your organization fulfill or advance its mission.
If the particular political issue in question is not relevant to your organization, say so. You're not taking a stand either way because it does not impact the mission of the organization and you have to focus on that.
Good luck to all this giving season! Be on the lookout for the next discussion topic with our panel!